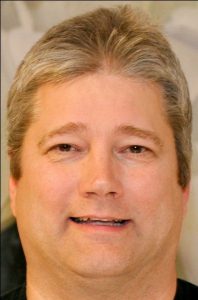 Born on the South Side of Pittsburgh in 1962, Joel's first brush with the organized hobby came in 1976 when he found an ad for the American Killifish Association in an old aquarium hobby magazine. Having always appreciated the beauty of these fishes from the color plates in the old Innes book, and not seeing them in local stores, he joined in order to acquire some. A few years later Joel found the Greater Pittsburgh Aquarium Society, where he was a member for a few years before graduating from the University of Pittsburgh and moving out of the area. Joel is now living in Lancaster County, Pennsylvania where he is an active member of the Aquarium Club of Lancaster County. Earning many of the club's annual awards, he was the Federation of American Aquarium Societies Author of the Year for 2012. Joel has been awarded the club's annual CARES Member of the Year award for each year from 2011 thru 2016. Most recently, Joel was honoured with lifetime membership in the ACLC for completing the highest level of the club's Writer's and Artist's Award Program. Joel has maintained anywhere from a few to about 60 tanks at any one time throughout his adult life and has kept many different species of fish. He is often amazed at how some species were once very common and now seem to be non-existent despite their attractiveness and ease of care and husbandry, seemingly pushed out of the hobby by the 'next great thing.'
Programs
CARES, Splitfins, and More!
This program will briefly discuss the CARES Preservation Program and focus on the family Goodeidae, a group of livebearing fishes where nearly all species are addressed in the CARES program. I will also share some insight into some of the other species of fishes that are currently on the CARES Priority List that I have kept over the last 40+ years.
Komments on Killiekeeping
This program is an introduction to keeping killifish and is loosely based on my column, 'Komments on Killiekeeping.' Some basic care and breeding information is shared, as well as some interesting―at least I think so―trivia on certain species. I also give a brief rundown on some of the various groups of killifish and touch on some of the new nomenclature. There is always something new added to this program every time I present it. Though not a CARES centric program, all CARES species are noted during the presentation.
Experiences with CARES Priority List Species
This program also introduces the audience to the CARES program and then goes on to discuss various experiences with many CARES Priority List species that I have kept in over 40 years of fishkeeping.
We are thrilled to have Joel with his great passion and knowledge along with his many years of experience as a part of the CARES Team as a CARES Speaker and Specialist!
Location: East Earl, PA
Email: [email protected]